Human Resources Guide for Bus Operators
The Human Resources Guide and associated templates can be downloaded in the file section at the bottom of this page.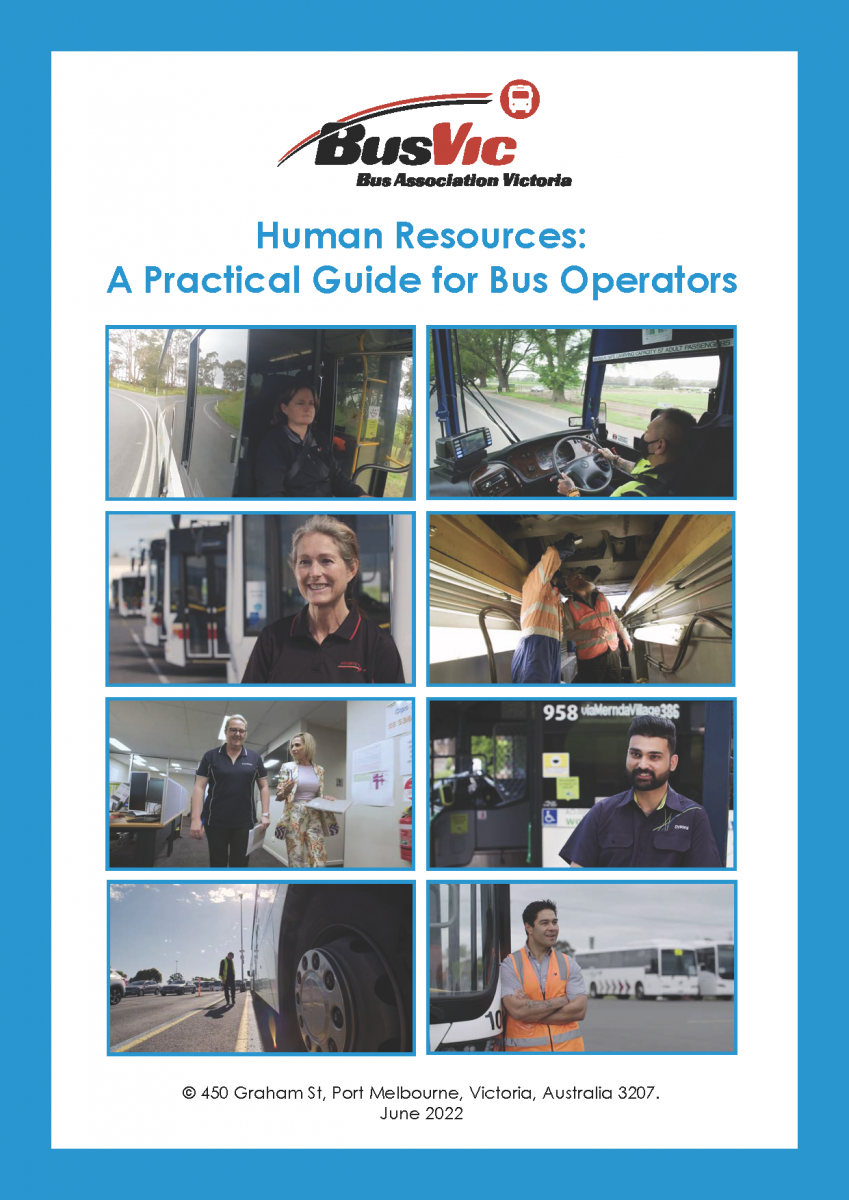 Human Resources: A practical guide for bus operators
An effective and productive, healthy, inclusive, and safe workplace is everyone's responsibly. Bus operators and senior leaders play a critical role in creating culture and driving policies and practices that promote staff retention and growth, health, wellness, and safety.
When effective recruitment and staff retention is valued by leaders, and appropriate resources are available and practices are in place, there are real benefits to employees in terms of improved health and wellbeing, as well as to operations such as increased productivity and job satisfaction, reduced absenteeism, and reduced compensation claims.
That's why your voluntary bus industry professional association has developed this resource: to help operators continuously improve their people policies and practices and remain great employers.
Victoria's bus and coach operators have developed a reputation for reliability and safety over generations. We trust this guide helps you sustain that.
Purpose
This Guide is for operators and senior leaders and aims to provide practical hints and tips on how to effectively manage the employee life cycle. If you are a single operator working rurally, a mid-sized firm servicing a region or a large operator in the city, there will be something in this Guide that will suit your needs and budget for your entire workforce.
Throughout this manual the terms 'employees' and 'workforce' are used. They will generally refer to the five key areas of a bus operation – Drivers, chaperones/supervisors, workshop and maintenance, yard/cleaner/refueller, and administration. Each of these roles have their own unique job requirements, skill sets, qualifications, and licensing. Where possible, this manual aims to be inclusive of all roles. Future editions of this manual will aim to elaborate further on roles other than drivers.
Disclaimer
The information in this Guide is not a substitute for legal or industrial relations advice.
The Bus Association Victoria Inc. makes no guarantees, representations, or warranties in relation to this Guide, or the information and materials provided within this Guide. The Bus Association Victoria Inc. will not be liable in relation to the contents or use or otherwise in connection with this Guide. The Bus Association Victoria Inc. has aimed to source reputable organisations as examples and potential resources for this Guide but does not represent, nor have any commercial agreements, with them.
Bus operators are encouraged to seek legal or industrial relations advice, or contact your industry association for assistance, to ensure your employment policies and practices are compliant.
Acknowledgement
This Guide was developed by the Association in consultation with BusVic's Social Strategies Committee and external consultants.