Agents for:


FEATURES
Compact two-bike rack design 
Features no scratch support arm design that secures the bicycle by front tyre only
Simple to use, does not require straps or cords for additional securement
Does not interfere with bus access panels or windshield wipers
Rounded outside corners for rider safety and ease of bus washing
The magnetic, self-storing support arm requires no action by the rider for proper stowage
Orientation of the bikes pedals by the rider is not required when using the rack and bicycles can be loaded and unloaded independently
The pivot plate is connected to bumper brackets and enables the bike rack to move between the stowed and deployed positions. 
2 year warranty
Available in an assortment of colors:
      Berry Grey
      Safety Yellow
      Signal Red
      Mistletoe (Green)
      Blaze Blue
Colours outside the above range are available on request and may attract additional cost.
SPECIFICATIONS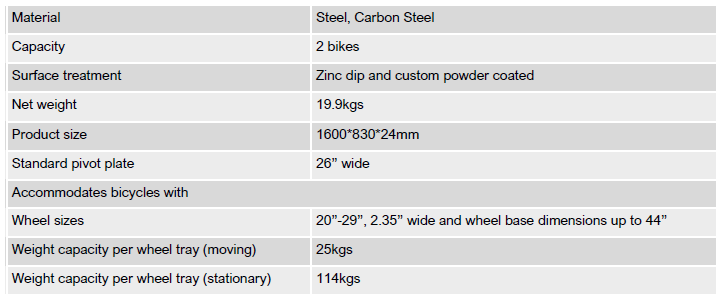 Contact us today for a quote!  Please note all pricing will be inclusive of GST and not include freight.  Freight estimates will be provided once the size of the order and its destination is known.  Pricing will include a pivot plate, but not an attachment.  Template attachments can be provided upon request. 
LVBL Bike Rack Social Enterprise will employ long-term, multi-generational unemployed residents from across Latrobe Valley, Australia.
LVBL is BCorp Certified and was recently awarded as 2019 Best For The World Honoree in Community. This means that LVBL has a verified B Impact Assessment score in the top 10% of all B Corps globally. 
Bus Association Victoria Inc, trading as Bike Racks on Buses Pty Ltd has an agreement with LVBL's social enterprise to distribute this Australian assembled product
For more information contact:
Perry Serafim
BusVic
PSerafim@busvic.asn.au     
Tel: +613 9645 3300
Mob: +61 489 044 336