Bus Parking and Drop off / Pick up zones for the 2020 Australian Open
This bus movement plan is for the Australian Open 2020 being held January 20 till 2 February. 

Bus Parking
Bus parking has been relocated for the 2nd year to parallel kerbside parking along the southern side of Wellington Parade, between Clarendon Street and Jolimont Road (approximately 80m of parking). 5 Parks per day at a cost of $80 per Bus. 
We will be issuing permits authorised by The City of Melbourne 1 week prior to the commencement of the 2020 Australian Open.
The area is only proposed to be used for the 4 days of the main draw (23-26 January). This is based on usage in 2019.
Coach operators and drivers MUST use this drop off/pick up & parking solution and abide by allocated zones.
If you are visiting the Tennis on a day not allocated parking please refer to the City of Melbourne Bus Parking option or alternative contact Lisa Muston for assistance lmuston@busvic.asn.au
 CLICK HERE TO DOWNLOAD THE BOOKING FORM

Drop off / Pick up zones
There are 3 passenger drop off / pick up zones
·         MCG Turn point near Jolimont Terrace
·         Batman Avenue (East side) between Margaret Court Arena & Rod Laver Arena
·         Alexander Avenue just after Swan St Bridge (North side)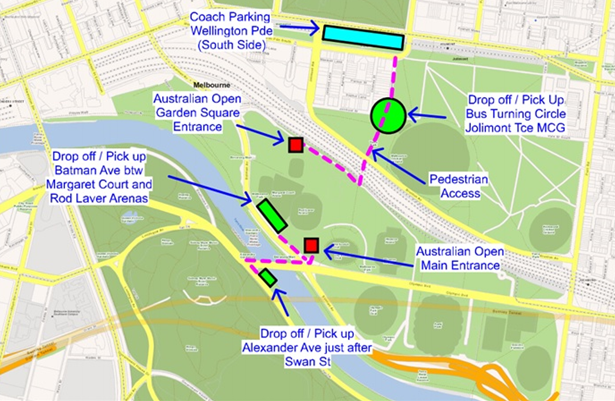 MCG Lockdowns for 25 January 2020-Melbourne Stars V Brisbane Heat Cricket Start 7.10pm- 9.30-10.30pm estimated finish
Due to large crowd numbers Victoria Police has a new policy that once there are more than 60,000 in attendance, they will be closing roads around the MCG 30-45 minutes pre and post-game.
The main access road to affect Bus Operators is Wellington Parade which is closed pre and post-game between Powlett Street and Lansdowne Street.  Buses will still be able to park in the designated area of Wellington Parade but please note you won't be able to move the Bus when the Lockdown is in place.
Please check this website to see what the estimated crowd numbers will be closer to the date. https://www.mcg.org.au/whats-on/events-calendar/2020/january/stars-v-heat-jan-25